Community Profile: Southeast Boise
The peace and quiet of the suburbs, close enough to everything you need … that's Southeast Boise.
SE Boise is one of the most-requested neighborhoods when people are asking about homes to buy in
Boise. Home buyers always ask me, "Is SE Boise as good as it sounds?"
I always answer, "BETTER!"
SE Boise, comprised of several smaller beautiful neighborhoods, is bordered by the Boise River to the
north and the Boise Foothills to the east.
SE Boise is also bordered by Broadway Ave (Hwy 20) and Hwy 21, providing quick access to get you
where you want to be.
SE Boise is quiet, neighborly and well-maintained. It has easy access to the Greenbelt, where you can
hop onto a 25-mile-long pedestrian and cycling pathway.
Live, work and play" isn't just a cliché in SE Boise. It's a belief system for everyone who buys a home
here.

TIGHT-KNIT COMMUNITIES
SE Boise is home to several smaller community developments, each one unique for its personality.
Let's highlight a few of them:
Columbia Village
Columbia Village is a community within a community. The development has homes that appeal to a
wide range of demographics, including condominiums for young adults starting out, single-family homes
for any size of family, and smaller homes for retirees looking to downsize.
The neighborhood, run by a terrific homeowners' association (HOA), has a rec center, complete with
outdoor tennis court, an exercise and weight room, an indoor racquetball court, pools, a disc-golf
course, a library, and more.
Pier Pointe
Gorgeous single-family homes on quiet streets and cul-de-sacs and quick access to the Greenbelt
combine to make Pier Pointe one of the more desirable neighborhoods in Southeast Boise.
It's adjacent to a robust shopping district and Baggley Park, a seven-acre expanse where you can picnic,
play games or just relax.
Lakewood
Similar to Pier Pointe, but a little more established. Homes in the Lakewood Subdivision balance the
best qualities of old and new together in one place. Established in the 1970's it has the mature feel,
including solid trees, and beautiful landscaping. Easy access to such Boise amenities as the greenbelt,
and the Boise River, Federal Way, shopping and Boise State University, you will live near everything you
need.

Surprise Valley
Watch the sun rise over the Boise Foothills and enjoy the serenity of nature in Surprise Valley. This
neighborhood is surrounded by 52 acres of landscaped green areas and parks, all linked by the
Greenbelt pathway. To the south, you get quick access to the natural bluffs for hiking and walking and,
to the north, you can find the Barber Pool wilderness conservation area nearby.
The Homeowners Association is active and inspires a spirit of family and community.

Harris Ranch
Located in East Boise but adjacent to SE Boise is Harris Ranch. Harris Ranch boasts lots of newer
subdivision and developments. The Foothills are seriously, about a block from your front door. The
Shakespeare Festival, the greenbelt – run, walk and bike. The Boise River – float, fish, or play fetch with
the dog. There are two deep, open water ponds and wetlands which attract the area's wildlife and the
trails provide residents an opportunity for a casual stroll and an up-close way to observe wildlife and
enjoy the natural habitat.

Bown Crossing
Once you find yourself in Bown Crossing, you may never have to leave.
Southeast Boise is a great place to buy for attractive, upscale homes, but Bown Crossing is where you go
to access top-tier amenities, like restaurants, shops, and other services. There's 59,000 square feet of
retail and restaurant space, and the streets are walkable and bike-friendly. Buy in Bown Crossing and
you'll soon adopt a lifestyle highlighted with delicious dining on summer patios and boutique buys.
The bike-friendly, walkable neighborhood is full of energy from dawn til dusk.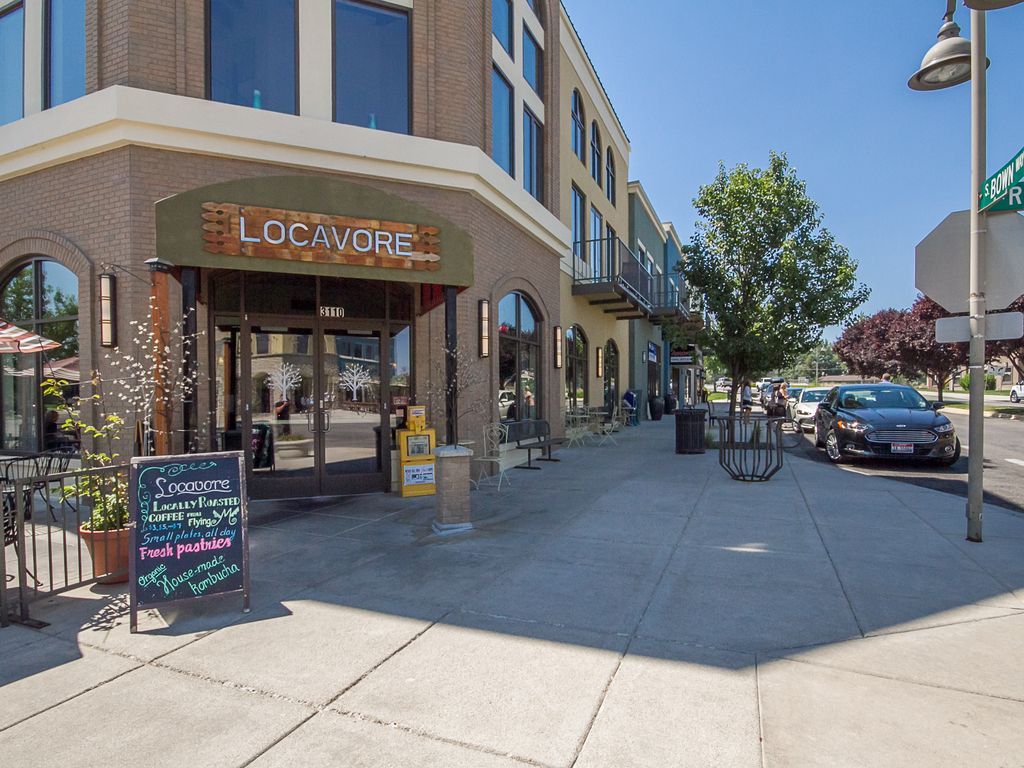 THE THINGS YOU NEED
One of the highlights of living in SE Boise is the accessibility to all the shopping and services you need for
daily life.

Boise State University is just on the other side of Broadway Ave, a great school that makes for an easy
choice for kids, once they graduate from high school. If they study something in high-tech, they might
even get to stay close to home with a job at Micron Technology, one of the area's largest employers. It
has a campus to the south of Southeast Boise, right next to the Simplot Sports Complex.
While the mountains and several lakes and state parks are just a short 15-minute drive away, there are
plenty of parks maintained by Boise parks and rec, including:
Cypress, by the way, is dog-friendly with an off-leash area. Check out my previous post on amenities for
dog lovers!
Education
Learning is no problem for the kids, since Southeast Boise boasts a good number of public and private
educational opportunities. The crown jewel is quite possibly the Library at Bown Crossing. Opened in
Spring 2017, this new facility isn't just a place to borrow a book and get free internet; it offers a kids and
youth reading area and wonderful educational programs for youngsters.
Worship
There's no shortage of churches to attend in Southeast Boise, no matter your faith or denomination. All
of Boise is blessed with a diverse, vibrant religious community. Go to this Google Map for a featured list
of area churches to attend.

Get Fit
In need of a workout for the body, too? Southeast Boise is home to several fitness facilities that will get
your muscles pumping.
Check out:
Not everyone likes to pump iron, though, so you might want to head over to The Lotus Tree for yoga or
YONG-IN Master Lee's Tae Kwon Do.
Good Eats
After your workout, you need to fill up some carbs and calories, right? According to Yelp reviewers, here
are the Top 8 restaurants in Southeast Boise:
CONVINCED?
Now you see the reasons why homes in Southeast Boise are so sought after. If you're interested in
moving to one of these fantastic neighborhoods, search my current listings and see what I have
available.
Then give me and my team a call at 208-319-3490.
Go there now!
Selling Your Home?
Get your home's value - our custom reports include accurate and up to date information.
Get Home Value