Olympic Athletes of Idaho
There's something about being able to stop history in its tracks.
And an Idaho hockey player was a big part of it.
Did you know our amazing state sent five athletes to the 2018 Winter Olympics in PyeongChang, South Korea?
Were you tied to the TV watching as much of it as you could?
Idaho was represented in women's hockey, men's halfpipe snowboarding, women's slopestyle, big air snowboarding, and bobsled.
Sun Valley resident Hailey Knight was the biggest story of them all.
Team Canada was on track to win its fifth consecutive gold medal, a feat that would have put the country in the record books for Olympic hockey championships.
The Canadians beat the Americans in the preliminary round, but the young Americans never gave up, ringing off victories against Finland and the Olympic athletes from Russia.
As the second-place team in Group A, Team USA earned a bye into the semifinals where it made easy work of Finland, winning 5-0.
With a powerplay goal from our Idaho gal.
Before she left for South Korea, Knight told the Boston Globe how focused she and her teammates were.
"We're doing as much as we can to put ourselves in the optimal position to win a gold medal," she said. "Every decision you make on a daily basis essentially is adding up to what could be the tipping point of winning the medal at the end of the journey."
All for gold
The gold-medal game was, quite frankly, exhausting.
Knight, who plays for the Boston Pride in the NWHL, scored the opening goal against Canada.
The Canadians came back to score two goals, but Team USA women clearly had the younger legs. They started to skate circles around the Canadians in the third period and their hard work paid off with a tying goal.
Overtime proved nothing and the game was decided in a teeth-clinching, fist-pumping shootout.
Maddie Rooney from Minnesota — was so steely eyed. Every shot she took, she came up to her feet grinning.
Sure enough, our American women prevailed with a spell-binding deke from Jocelyne Lamoureux, a North Dakota rep.
At home in Idaho
Knight was born in California and spent much of her youth in Illinois. Her family — parents James and Cynthia and three siblings — now calls Sun Valley home.
She's been on the cover of national magazines, including ESPN's 2014 Body Issue. She's an outspoken advocate for women and girls in sports, urging them to believe in themselves and fight against stereotypes.
Before leaving for South Korea to cheer on her daughter, Knight's mom, Cynthia, told KVTB all about how proud she was.
"How she's been able to not just be ho-hum, part of the process, but really push it and really make it better for the next generation of women skaters, because a lot of people could just ride along and do nothing," Cynthia said. "And that's what I'm proud about."
Knight's Twitter feed is a fun look at how to celebrate winning an Olympic gold medal: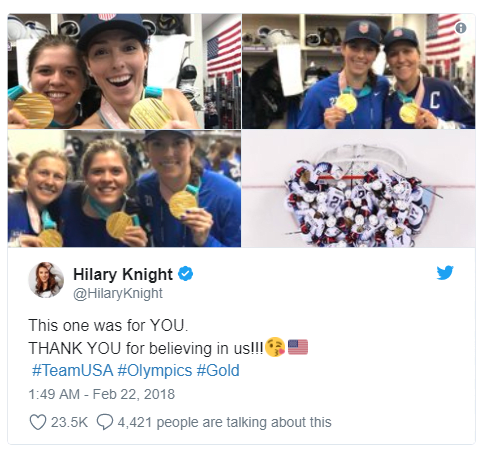 All about the snow
Idaho was well represented off the ice, on the snow.
Chase Josey, a native of Hailey, burst onto the snowboard scene, finishing sixth place in the men's halfpipe.
Just 22 and ranked 12th in the FIS World Cup standings, Josey earned his spot by winning a Toyota U.S. Grand Prix event. No stranger to the spotlight, he won a bronze medal at the 2016 Winter X Games.
He stands out among the competition, thanks to his ability to incorporate several different switch tricks into his runs. He pumps difficult switch backside tricks into his runs and recently added a front side 1260 to his portfolio.
Check out that video on his Instagram profile:
Taught by his dad, Josey started snowboarding at age 5 up at Sun Valley. He started entering competitions five years later and, by 2017, was setting standards with a run that featured five consecutive doubles.
At the Laax Open, according to his NBC Olympics profile, that run ended with three straight switch tricks, including a never-done-before back-to-back combo of a switch double crippler into a switch double Michalchuk.
The run earned Josey his first major win of his pro career.
After his sixth-place finish, Josey wrote on his Instagram page:
"Today was amazing and I'm so happy to walk away with 6th place at the #olympics feeling like I put down some of the best riding I've ever done. This journey has been incredible thank you to everyone along the way supporting the cause and sending energy for me."
Lots of air
Fellow snowboarder Jessika Jenson competed in her second Olympics, after finishing 13th in women's slopestyle at the 2014 Winter Games in Sochi, Russia.
A native of Rigby, she entered the PyeongChang Games seventh in the World Cup standings.
The women's slopestyle boarders faced treacherous winds in the qualifying runs and the round was canceled.
All 27 competitors advanced to the gold-medal run and, in her first of two runs, Jenson laid down a clean run with a perfect 720 on her final jump. She scored a 72.26 but it wasn't enough to hit the medal podium.
Team USA snowboarder Jamie Anderson captured the gold medal.
Jenson wasn't done yet, though. She also represented Team USA in the big air competition. The event made its debut at this Games and snowboarders got one huge jump (thus … big air) to pull a daredevil trick.
Jenson was 24th in the World Cup standings going into the Olympics.
She placed 12th in the qualifying round, sneaking in a spot in the finals, and improved to 11th in the final standings. She crashed on each of her runs but attempted some difficult maneuvers to stake her reputation as a daredevil.
Bobsled connection
Two Team USA bobsledders have Idaho connections — they both went to school in the Gem State.
Both Nick Cunningham and Sam Michener were on the four-man bobsled team. They ran track at Boise State and University of Idaho, respectively.
Cunningham, a California boy and the sled pilot, and Michener, a native of Oregon and the brakeman, finished 21st overall.
Cunningham also finished 15th in the two-man bobsled with Hakeem Abdul-Saboor.
It's the first time Team USA has not medaled in men's Olympic bobsled in 12 years.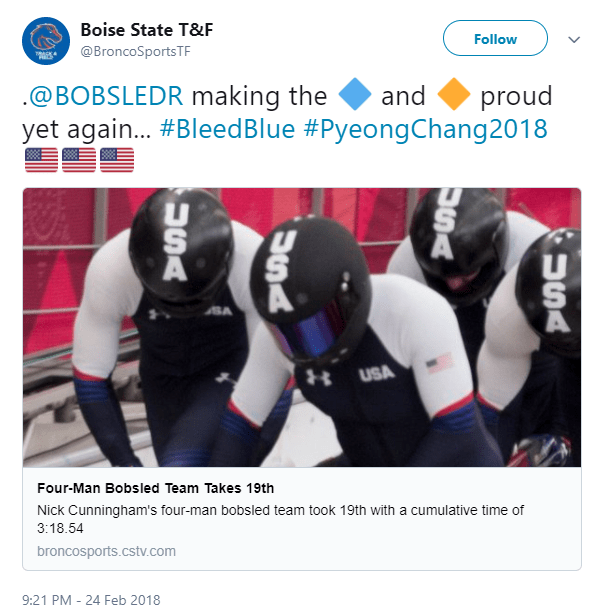 Brother and sister team
Maia and Alex Shibutani may have stolen hearts in figure skating as Team USA siblings but another brother-sister duo was on the minds of Idaho sports fans.
Cross-country skiers Caitlin and Scott Patterson were born in McCall. They graduated from school in Alaska and Caitlin has since started to call Vermont home.
We're still going to lay claim to them as Idahoans!
Caitlin raced in the 7.5-kilometer plus 7.5-km skiathlon and the 30-km mass start classic, finishing 34th and 26th respectively.
Scott entered four events on the men's side:
15-km + 15-km skiathlon
15-km free
50-km mass start classic
4x10-km relay
He captured the best finish for men's cross-country team across all events. He grabbed 11th place in the 50-km classic.
It was also the best 50-km performance by an American man at any Olympics, besting the 13-place showing by Bill Koch at the 1976 and 1980 Winter Games.
He also placed 14th with Team USA in the relay, 21st in the free, and 18th in the skiathlon.

Shootin' the breeze
Victor is a small town on the east side of the state. In fact, it's almost Wyoming.
It's that close to Jackson Hole.
And it's where Breezy Johnson grew up before qualifying for her first Olympic Winter Games.
We're going to call her ours in Boise.
She finished seventh overall in the women's alpine downhill, recording the second best time of her career at 1:40.34. She also placed 14th in the women's super-G.
After the race, she posted on her Instagram account:
Idaholympics
Breezy Johnson's post embodies the Olympic spirit.
Everyone at Platinum Idaho Real Estate is so proud of our Olympic athletes, not just the ones from Idaho. We cheered on all the Team USA athletes to every finish possible.
They spent their lives intensely training and competing to represent our country at the highest possible stage.
We feel their struggles and we celebrate their successes.
And we can't wait to see who the next Olympians are right here in our Gem State.