Sometimes, you just need a Big Mac, right?
You're on the go, you need a quick fix for that growling monster in your stomach. Oh, look, it's the Golden Arches!
But then … oh then there are those moments when you need something a little more hearty, where are the best burgers in Boise?
We sent the Platinum Idaho team out onto the streets of our city to find out. (And you can bet they ate their fair share of French fries, too … because, well, Idaho.)
OUR JOURNEY TO BOISE'S BEST BURGER
The consensus vote in local polls usually is Boise Fry Company. Our Platinum team came back with a different answer for 2019: Big Jud's.
Now, that's not to say Boise Fry Company is a sad runner-up. It was a serious debate here in our offices. I mean, tomatoes were thrown, lettuce was torn and fry sauce got seriously stirred up.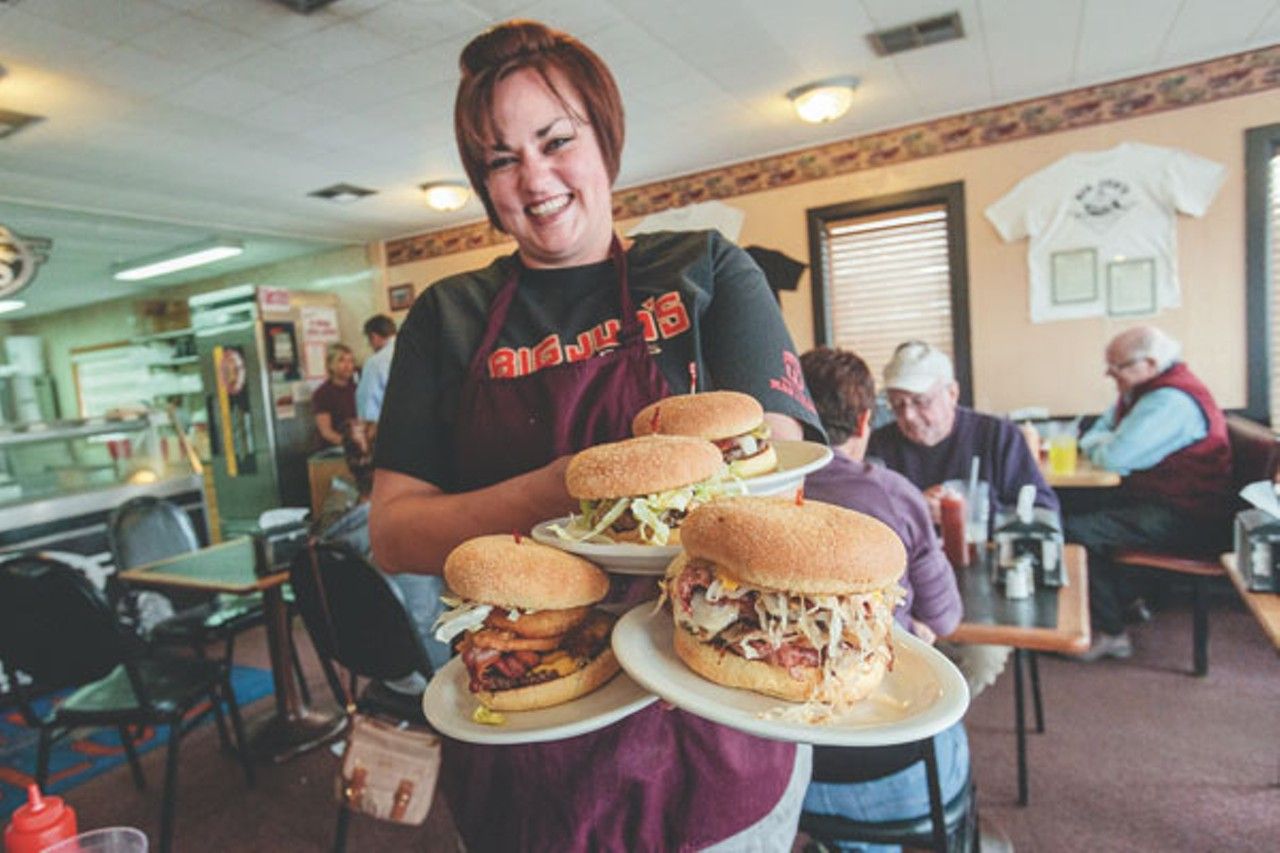 Big Jud's
1289 South Protest Rd.
Also locations in Meridian and Archer
Bring. Your. Appetite. Not only are the burgers "bigger than your head," according to one review, but the steak fries are huge and tasty, too. It isn't like opting for the Tater Tots will make for a little more room in your stomach. You get a heaping helping of those, too.
Everything at Big Jud's is big and that's why we love it.
The Big Jud Special comes with a full pound of meat and, if you're feeling really hungry, you can go for the Double Big Jud Special, two pounds of hamburger meat.
If you can get all that down, I've got a nod in your direction, my friend!
The truly adventurous will attempt for the Man Versus Food Burger, named for the TV show that made it famous. It comes with two one-pound patties piled with bacon, mushrooms, Swiss cheese, bleu cheese, mayo, lettuce and tomato.
Urrrrrrrgggggghh … somebody pass the Tums.
Among our staff favorites are the Hawaiian burger, topped with pineapple, ham, Swiss cheese and teriyaki sauce; the Avocado, topped with avocado, onion, tomato and lettuce; and the Reuben with pastrami, Swiss cheese, sauerkraut, Thousand Island dressing and mustard.
A Reuben hamburger? Put it on my plate!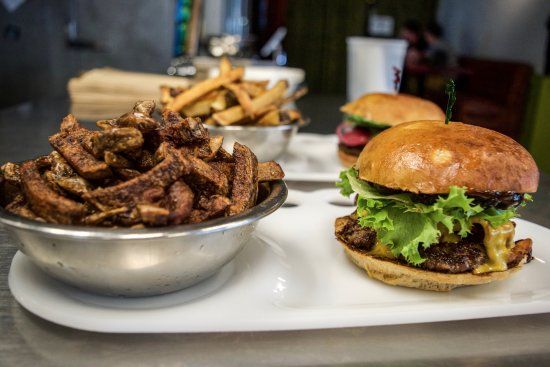 Boise Fry Company
Multiple Boise locations
Also in Nampa and Meridian
What keeps us going back to Boise Fry Company? Flavor. Both the bison and beef burgers are hand-seasoned with Boise Fry Company's secret recipe (is there a Colonel back there, too?). All the ingredients are fresh and natural, coming from cows that are grass-fed.
Even the organic whole wheat potato buns are baked fresh every day.
The consensus favorite here is The Heat burger, serving up a lovely balance of sweet blueberry compote and spicy habanero pepper. It's a burst of tastiness on your buds.
We're also big fans of the selection of fries. You have your choice between potato types (we love that burst of color in the purple taters) and cuts. Then comes an array of salts and sauces (we aren't just about ketchup anymore).
This is no place for the indecisive!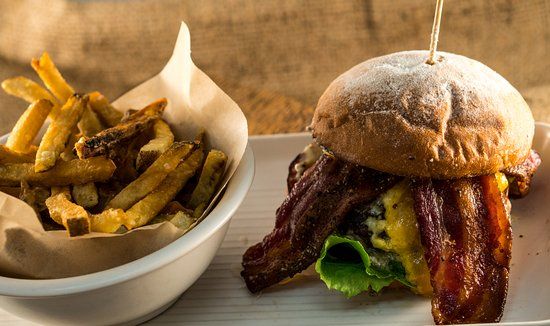 Bittercreek Ale House
246 N 8th St
It isn't just about the patty at Bittercreek Ale House; it's also how the chefs dress up a burger.
Ground in house, the patties are made from Desert Mountain chuck and brisket. It combines the juiciness of traditional chuck with the more meaty brisket to give your burger a hearty taste.
The dressings aren't done any better than the Huntsman … applewood smoked bacon, Gloucester cheddar and stilton bleu cheese, a pickle for a burst of sour, and the traditional lettuce, onion and tomato.
I love the Burrata Burger, elevated to a whole new level with pesto, pomodoro, basil and a peppery bite of arugula.
Just make sure you get a side of the curds, a heaping dish of beer-battered cheddar curd fried to perfection! (be sure to ask for them buffalo style – you won't be disappointed)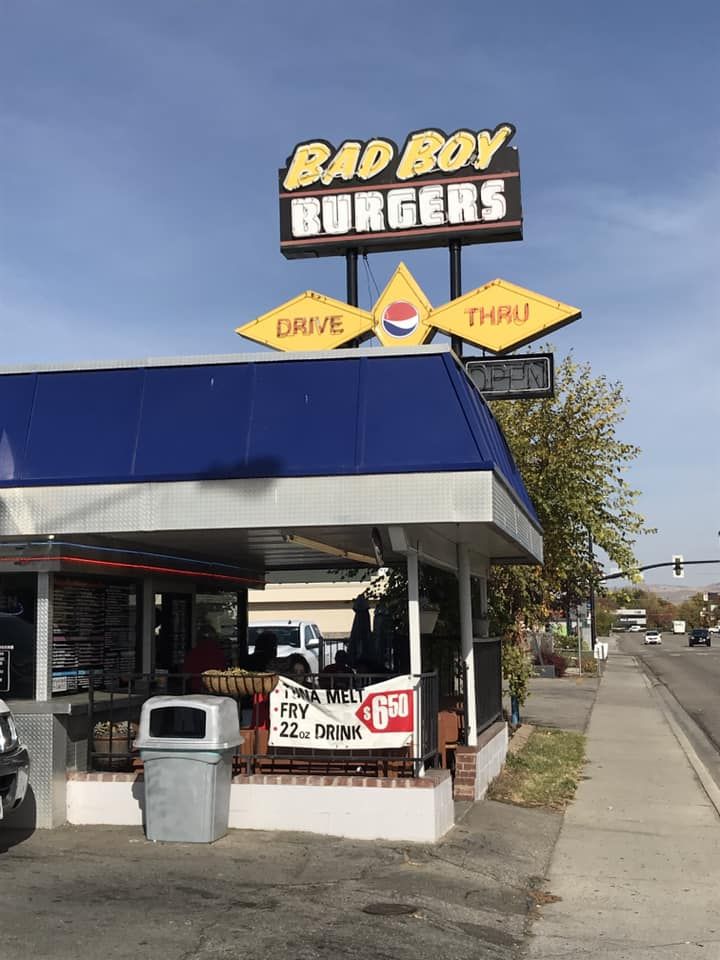 Bad Boy Burgers
815 S Vista Ave
7000 W Fairview Ave
These bad boys are so juicy, you're going to need extra napkins.
Bad Boy Burgers tops our list for a fast sandwich, especially when you need to roll up to the drive-thru.
And don't expect just to get any plain old burger, because it's drive-thru. You can find something to suit your taste, whether it's piling pastrami on top of your beef patty or biting into a pop of jalapenos amid ooey-gooey cheddar cheese.
Bad Boy Burgers also has some of the best fry sauce you'll find. Tie it all up with a thick, delicious milkshake. If you have all this for lunch, you may have to skip dinner.
(This is also the place to go if you'd rather have onion rings instead of fries. I know, I know … that sounds like sacrilege to our great potatoes!)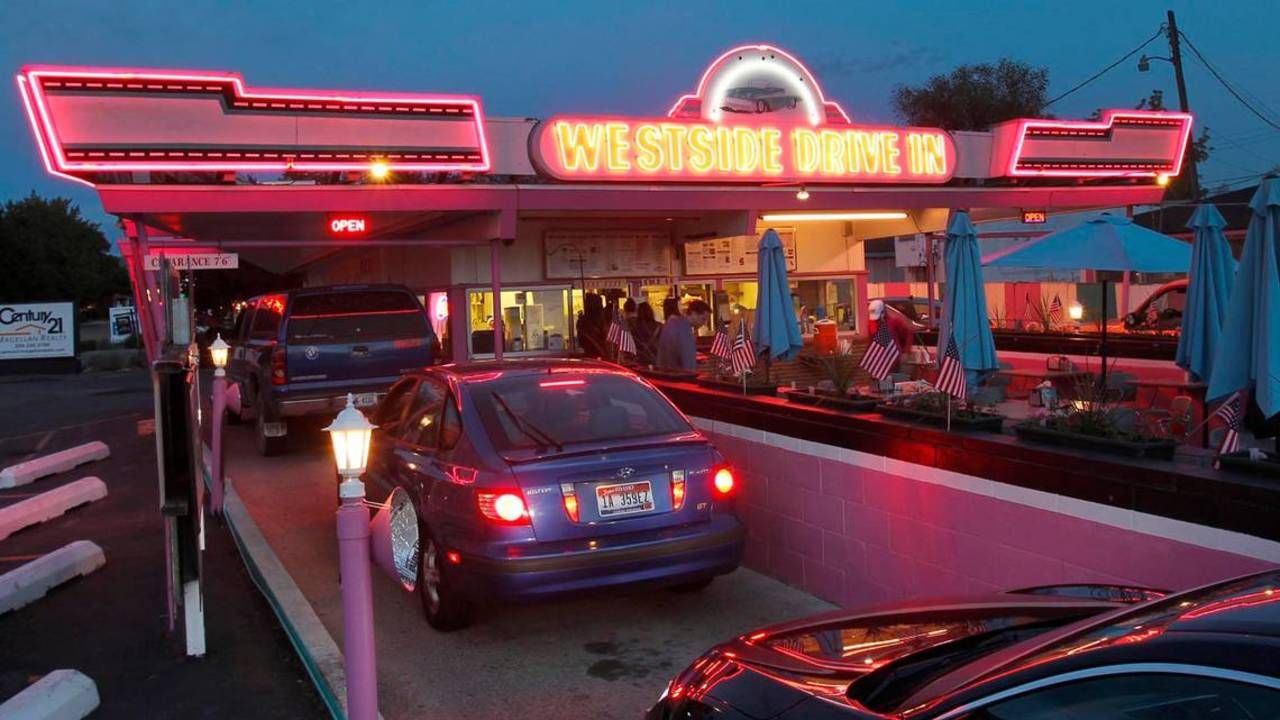 Westside Drive-in
1929 W. State St
1113 ParkCenter Blvd
The Westside isn't just a place for a good, quick burger. It's also a Boise tradition, an icon even. The drive-in takes us back to the era of poodle skirts, greased back hair and sock hops. It's Grease in Boise burger form.
Chef Lou, who bought the Westside in 1993, keeps the joint as it has been since 1957 and adds to burger culture with an awesome selection of burgers and other handheld delectables. Featured on Guy Fieri's Diners, Drive-ins and Dives, the Westside is a top-notch filling station for your hunger.
Wrap your hands around the Two Fister Burger or experience the taste of something different in the Cajun, Teriyaki, Maui or Guacamole burgers.
Finish off your meal with the unique and delicious Ice Cream Potato.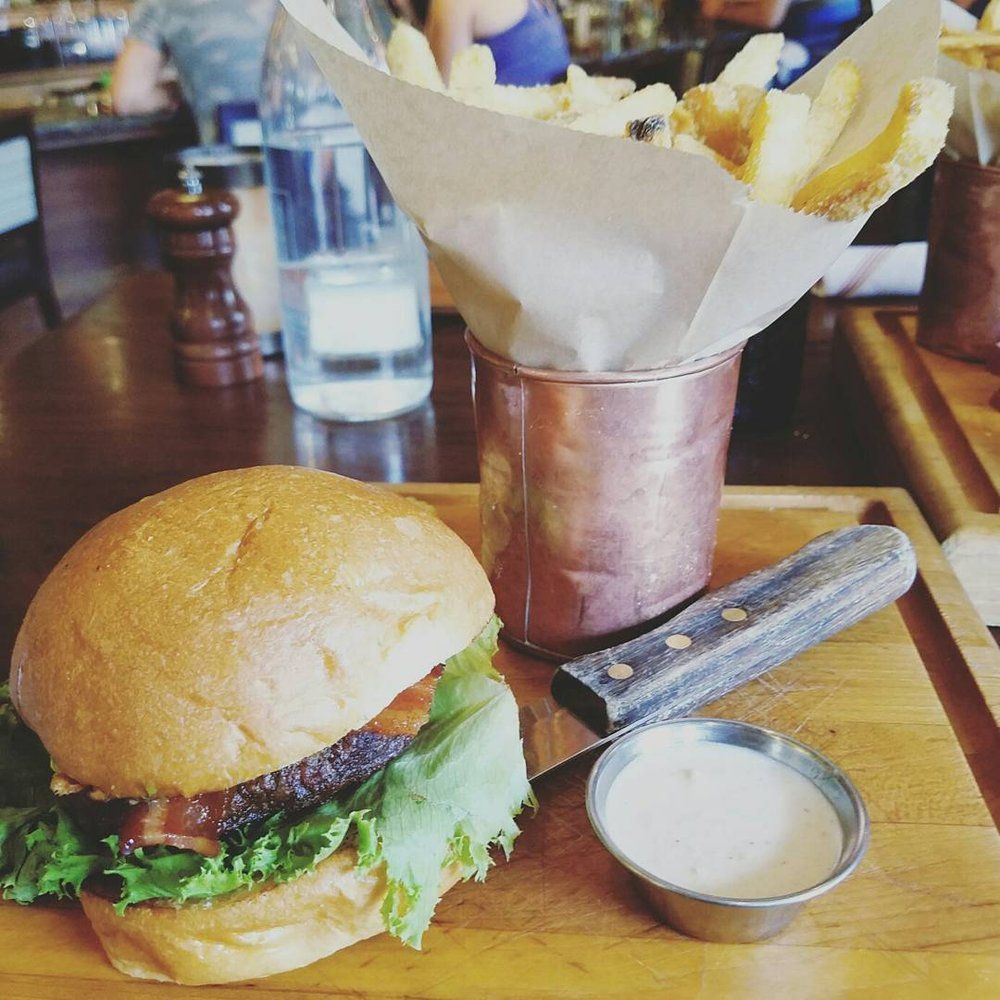 The Fork
199 N 8th St
Lots about The Fork screams elegance, including its ambiance and location in the old bank building. It's considered high-end casual dining but the burgers have a down-home goodness about them that have you feeling classy and comfortable.
Owners Cameron and Amanda Lumsden have a "Loyal to Local" commitment, which means they source many of their key ingredients from local and regional farmers, ranchers, bakers, distillers, brewers, producers and cheese makers.
That means you're going to get your Urban Burger dripping with Ballard Family cheese on top of a Wagyu-chuck blend and a fresh, soft bun from Gaston's (Galaxy if you choose gluten free). You can opt to get this baby piled high with maple-spiced applewood smoked bacon, too. Christine highly recommends you do that!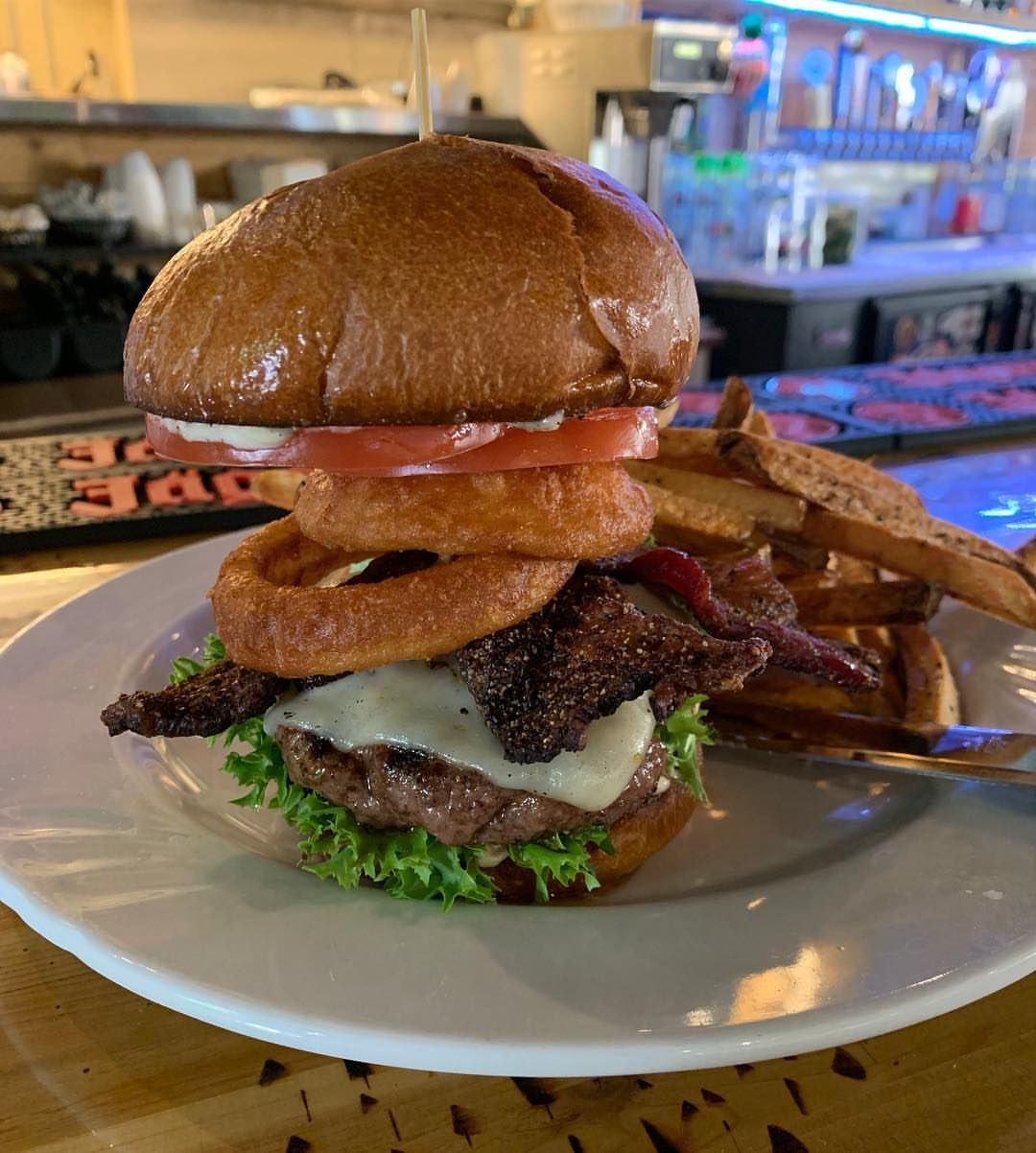 The Shed
1010 LaPointe
When it's time to watch the big game, it's time to head to The Shed.
The crew at Platinum likes this spot to watch our beloved Boise State Broncos in action and enjoy a good burger.
Abby swears by the Brunch Burger, but Lori is all about The Grateful Shed.
The Breakfast Burger brings the heat with a jalapeno-cheddar biscuit toasted and topped with a one-third pound patty, eggs your way and country gravy.
The Grateful Shed (we really love the name) is a delightful combination of flavors, topping the burger patty with bacon jams, sauteed mushrooms, bleu cheese crumbles and onion rings.
Burgers are off the chain in Boise
Boise really is a great place to be if you're a foodie, or if you just enjoy a good burger.
We'd be remiss in not mentioning a couple of our favorite chain restaurants. When we want a straight-up, traditional fast food burger, we head for The Counter or Five Guys.
Where do you go when it's time for the great American tradition of burger and fries? Did we leave out your favorite spot? Head over to this post on our Facebook page and tell us what you thought!