BUYING FORECLOSURES AND OTHER DISTRESSED PROPERTIES: OPPORTUNITIES AND CHALLENGES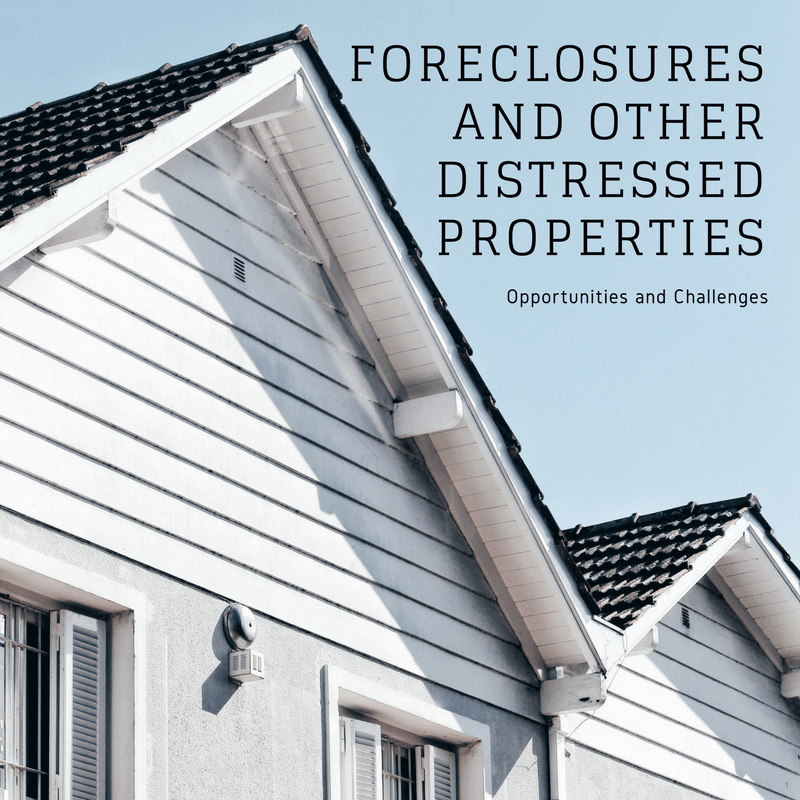 In 2011, as the real estate market hit rock bottom, nearly 60% of all homes sold were distressed properties (short-sales & foreclosures). By 2016, these properties made up less than 1% of the total units being sold. Although these properties are now rare and difficult to obtain, there are still options. Let's look at some of the challenges presented when trying to purchase these properties:
PRE-FORECLOSURES
A "Pre-Foreclosure," one in which the owner has simply received a "Notice of Default," will often be mislabeled as available for sale on websites such as Zillow and Trulia (a list of these homes can easily be obtained from a title company or government agency). However, there are still several options available to these home owners, including paying off their past due balance, or hiring a REALTOR® to sell their property at market value.
You may have heard the term "wholesaler." A real estate wholesaler is someone who works for a national company and is trained on how to spot these potential opportunities. Professional wholesalers contact pre-foreclosure owners to inquire about the possibility of purchasing the property with cash at well under market value, which gives the owner a quick out if they are in a severe financial situation. The wholesaler then finds a client for the property, almost always an investor who plans to renovate it, and either sells the investor the property or assigns it to them for a fee. Wholesale purchases are done through private, cash, non-listing service transactions that are generally unavailable to the average buyer.
If you are interested in learning more about becoming a wholesaler, I recommend that you attend a seminar on real estate investing when one becomes available in your area. These seminars and proceeding workshops will cost you a few thousand dollars and several days of your time, but may be worth it for the determined investor.
FORECLOSURES
Attractive foreclosures are most commonly sold at public auctions, often at a title company or sometimes at the courthouse or other location. Prior to the auction, you will need to register your attendance and your funds in the proof of a cashier's check, money order or cash. First, you should decide how much you are willing to bid. Bring funds equal to that amount or higher when you arrive. (Should you win the auction, you will be refunded any difference.) Then you will be escorted to a room with other bidders and the auctioneer. Because foreclosure sales require cash at the time of the auction, the average buyer is often unable to compete. And many of these bidders include seasoned investors with deep pockets and great resources to complete a remodel or restoration economically. Sometimes auctions can get postponed up to the date of the sale, so be sure to check the day before to make sure it's still scheduled to take place.
SHORT SALES
Short sales are available to the average buyer, if you can find and jump on them quick enough. On a short sale, the bank is allowing the owner to sell the property for less than they owe, so offers go through a rigorous bank audit process, and can take months or even years before the transaction closes. In this market, short sales are extremely competitive because they usually sell below market value. They attract multiple offers, and cash offers often win out.
BANK OWNED (B.O.) AND REAL ESTATE OWNED (R.E.O) PROPERTIES
B.O.s and R.E.O.s are properties owned solely by the bank due to the borrower's financial default. Because banks are not in the business of owning real estate, they are often eager to remove these properties from their liabilities but governmental requirements for banks ensure that certain guidelines are met when buying and selling these properties. Again, I suggest that if you are interested in becoming a flipper, you start by attending a real estate investing seminar where they will teach you how to work with the banks directly.
THE BOTTOM LINE WHEN IT COMES TO BUYING IN TODAY'S MARKET
In our current real estate climate, acquiring a distressed property is less of a casual opportunity and more of a business strategy that requires a significant investment of your time and money. Until the next market decline, distressed properties will remain generally out of reach for the average homebuyer. A final word of caution: Waiting too long for that to happen could leave you regretful of a missed opportunity to ride the equity gains many homeowners are currently realizing.
Indeed, with a dedicated REALTOR® to help you negotiate your purchase, you may be able to secure a below-market sales price for a regularly-listed home. I strive to get my buyer clients properties for under market value. In fact, over the past two years, I have managed to secure my buyer clients a final sales price an average of 2.2% below the appraised value (including any seller-paid closing costs). This means for a home that appraises for $200,000, the average net price I negotiate for my buyers is $195,600 - which is relatively unheard of in this heightened seller's market where the average home in my area is being sold for within 0.3% of the final asking price. With the shortage of inventory and multiple offers often received, sometimes just securing your desired property is the real victory.