25 Things To Do In The Treasure Valley This Christmas Season
Shhhhhhh … what's that I hear? Is it the soft tinkle-tinkle of sleigh bells in the distance?
Boise is abuzz with holiday fun for the family.
Without further adieu, let's look at 25 different things you can do.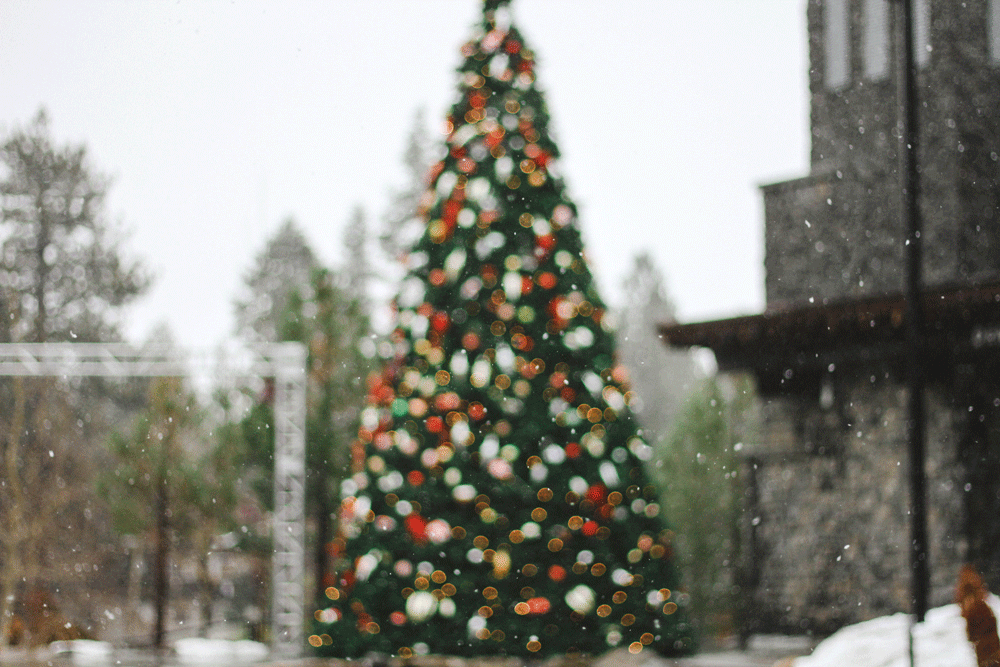 Holiday fun in Boise
1. Christmas Decorating Contest: The downtown core of Meridian is alive with Christmas decorations. Reward your favorite by voting in the decorating contest from Friday until Sunday, December 15.
2. Winter Garden Aglow: The Idaho Botanical Garden transforms into a twinkling wonderland with almost 600,000 lights decorating 14 acres. From now until January 4, enjoy live music, visits with Santa, the Holiday Express S model display, new interactive displays and an interactive display by Illumicone.
3. Christmas on the Farm: The Lowe Family Farmstead on South Eagle Road in Kuna throws open its gates every weekend of December for visits with Santa, cookie decorating with Mrs. Claus and sleigh rides. Meet real reindeer, Juniper and Evergreen and get your farm fresh Christmas tree, while supplies last.
4. Santa Claus is Coming to Town! at Center Court: Santa visits Boise Towne Square every day until Christmas Eve (because, you know, he's kind of busy that night). Check the website for hours. Pets are welcome every Monday from 5 p.m. until close.
5. City Santa: Santa's everywhere! Get a hug and a photo at the D.L. Evans downtown branch at 8th and Main streets. Photos are free every Saturday from 10 a.m. to 2 p.m. Donations are welcome and go to the Women's and Children's Alliance.
6. A Christmas Carol: Stage Coach Theater presents the Charles Dickens' holiday favorite featuring Ebenezer Scrooge and the ghosts of Christmas Past, Present and Future. Patrick Barlow updates the Christmas classic with contemporary nuances and puppetry. Shows run until the 14th.
7. Boise Trolley Tours' Holiday Lights: Saturday is opening night for trolley tours of Boise's best Christmas light displays. See how your neighbors have decorated their homes for the holiday season.
8. Indoor Winter Market: Stock up for Christmas dinner with cranberries, maple syrup, root vegetables and more. The indoor market, hosted by the Boise Farmers Market, goes every Saturday at 1500 Shoreline Dr.
9. Children's Winterland Festival: Christmas is for kids, of course. Bring the family to this fun festival on Saturday, December 14, at the Meridian Boys & Girls Club with Christmas-themed games and activities, including pictures with Santa, cookie decorating, ornament and Christmas card making, letters to Santa and more.
10. The Nutcracker Suite: Christmas really isn't Christmas without a production of The Nutcracker Suite. Boise Ballet Academy presents the classic performance for the first time on December 20 at the Nampa Civic Center.
11. The Nutcracker: Ballet Idaho also gives a performance of the classic with seven showings between December 19 and 23. More than 100 children from the Ballet Idaho Academy grace the Morrison Center stage with professional company members for a production that's larger than life.
12. The Bell Ringer: It's a Christmas musical with a rock 'n' roll theme. Knitting Factory Entertainment presents this powerful rock opera, the brainchild of novelist Peter Orullian who combined his three passions into this opera: storytelling, symphonic rock and, of course, Christmas. The Bell Ringer is performed on December 18 at the Nampa Civic Center.
13. Christmas Tree Class: Learn to decorate your tree in style at Franz Witte Nursery. Pick between a #1 Holly or Dwarf Alberta Spruce tree and adorn it with ornaments (feel free to bring your own, too). The class goes Wednesday, December 18 at 5:30 p.m.
14. Holiday Pops: The Boise Philharmonic celebrates the holiday season with a night of music. The Philharmonic is joined by the full Boise Phil and Master Chorale and guest conductor Charles Latshaw. Check to see if tickets are left! This December 13 show sells out quickly.
15. Who-Ville Holiday Night: JUMP Share Studio turns into a village inspired by Dr. Seuss's How the Grinch Stole Christmas. Join the crew on Thursday, December 12, for a Grinch-inspired dinner, trivia and much more.
16. Twilight Christmas Market: Shop for locally hand-crafted gifts, seasonal foods and holiday treats at this popular Christmas bazaar, hosted by Meridian City Hall. The market runs from noon to 7 p.m. on December 11.
17. Mannheim Steamholler: The Ford Idaho Center features another Christmas favorite with the Mannheim Steamroller by Chip Davis. Its powerful neoclassical new-age music brings modern flavor to class Christmas tunes. The show is set for Tuesday, December 10.
18. Santa's Workshop in Nampa: Spend a couple hours on Saturday, December 14, at the Nampa Rec Center making holiday crafts, playing games and decorating cookies. It's fun for the whole family.
19. Holiday Bazaar: Join the Boise Elks Lodge from 10 a.m. to 4 p.m. on December 7 for a market of handmade crafts, artisan glass pieces, succulents, metalworks, quilts and more. Bring the kids for a free scavenger hunt.
20. Nampa Christmas Light Tour: Let tour guides take care of deciding where to go to see the Christmas lights of Nampa. The Nampa Parks & Rec Department does the driving and provides refreshments. Arrive at 5:45 p.m. on Friday, December 20, to board the buses.
21. Greenleaf Farmers Market Annual Bazaar: You get two weekends to visit the big annual Christmas market in Greenleaf, this one and December 20-21. Jump into the photo booth, grab a free hotdog and explore the vendors selling homemade crafts and candy, artisan wares and more.
22. Winter Solstice Market: Get last-minute shopping done at Indian Creek Plaza's winter market, featuring fine handmade items and crafted treats. You might find one-of-a-kind pottery, fused glass pieces or metal sculptures. Don't forget to bring your skates and glide around the ice ribbon for a while, too.
23. Christmas Run: Don your Christmas sweater, a Santa hat and your running shoes for the 36th annual Christmas Run on December 21, presented by Saint Alphonsus. There's a Christmas costume contest for all runners, along with hot soup and bagels at the finish line.
24. Santa at the Boise Depot: The historic Boise Depot holds a special open house on December 15. Meet Santa and his elves, take a guided tour with the Grinch and some Who-ville characters, and see the model trains on display. Donate a toy to benefit Toys for Tots.
25. Skate the Village at Meridian: Lights twinkle all around as you skate around the ice surface at the Village. Ice times are open every day with extended hours on Saturday. Bring your mittens, rent some skates if you don't have a pair and move those legs.
Whew! That's a lot to do, isn't it? You don't have to tick everything off on this list, that's for sure. Get out and enjoy the holiday spirit that has washed over Boise.
If we missed anything, let us know and we'll share it on our Facebook page!
Client Success Stories
Hear what our past clients have to say about their Platinum Idaho Experience!

Meet Our Team
You are in great hands, and our exceptional team at Platinum Idaho Real Estate is guaranteed to provide you with a FIVE-STAR experience